Queen B launched a brand new clothing line in collaboration with Topshop and I am beyond hype! There is so much in store as her line will include a 200 piece collection. It is called IVY PARK and will feature active wear from bras and leggings to slides, hoodies, headwear and track suits. It is everything Cute Tomboy and her marketing campaign proves JUST THAT. The diva made her debut yesterday seen below when she released her promotional visual via YouTube and let's just say, she had my full attention. It gave me the chills, brrr. 🙂
In the video you see her from one shot to the next (including Ivy herself) wearing various pieces from her collection and of which was also filmed in her hometown at the very park she would go to for peace. solitude, focus and reflection. She speaks of the park she grew up running through and how it became her "state of mind" and had also became her "strength". She follows with, "Where's your park?" – to which i answered, prayer.
Timing couldn't be more perfect, go figure, as she is also found on the cover of this month's issue of Elle Magazine wearing her line. Let's just say, she is just GORG! But then again, what Cute Tomboy isn't!? Ha!
The collection will be available at three retailers, Nordstrom, Zalando and the aforementioned Topshop beginning April 14th. Prices will range from $30 upwards of $200.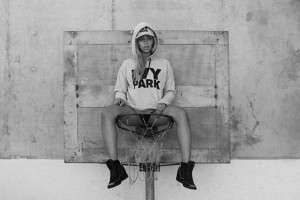 All words and creative direction my own