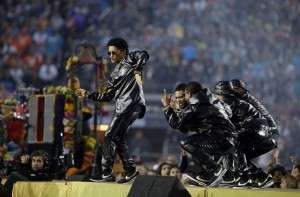 If you're like me, you noticed Bruno Mars threads from the moment he set stage with his crew on Sunday. This guy always gets it right! Bruno has a style sense that i find mimic that of a Cute Tomboy. Just as he says in his song "Uptown Funk" … "Got chucks on with Saint Laurent got kiss myself, I'm so pretty!" proves that even though you may have a tasteful pallet for wardrobe, your identification also calls for the more casual and comfy. When you can fuse the two together, you've got Cute Tomboy style.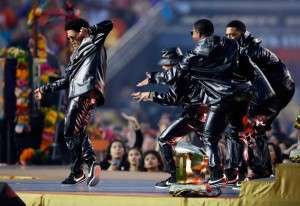 Ok, so with that said, I was a deer in headlights over these "fits!" Seen in the photos he and his boys wear custom made Versace leather sweat suits adorned with gold chains and on the feet are retro Nike Cortez taking us back to the 80's with inspiration from RUN D.M.C. Now the sneakers were what made me do a double take. I mean, of ALL the shoes Bruno could have chosen, I mean ALL THE SHOES, he chose JUST RIGHT! Details are everything and this detail made everything come together for these guys. Kudos to Bruno Mars for adding flava to the fashion game once again!
If you are as interested as me and want to get your hands on a pair for yourself, I have listed a link below to swoop some up!
http://store.nike.com/us/en_us/product/cortez-id/
All words and creative direction my own.